Welcome
Saturday, July 11
8am – 5pm, Southworth Homestead, 14 North Street, Dryden, NY
We are having an Antique ~Flea Market Saturday July 11, 2015 8AM–5PM at the Southworth Homestead, 14 North Street, Dryden.  There will be antiques, collectables, crafts, food, raffles and more at this event.  If you have an interest in selling any of your own items please contact Shirley Price at 844-8700 to reserve a spot for a minimal fee.  We are also giving tours of the Southworth House Museum that day.  Stop by and enjoy the day.
Starting Saturday, May 2
Beginning May 2nd, tours of the Southworth Homestead will be offered.   On the first Saturdays of the months of May through October, tours will be given at 10 am, 11am and 12 noon.
With the gift of the Southworth house came many treasures.   This year, we can look forward to seeing more unique objects that were used by the family over the decades.  Beautiful hair combs, interesting playing cards, and family photographs are some of the treasures we'll see this year.
2015 RAFFLE TO BENEFIT THE SOUTHWORTH HOMESTEAD
This year there are two items in the Benefit Raffle.  Buy a ticket and take a chance on either an antique quilt or a framed copy of a locally famous photograph.  Tickets are $5.00 each or 3 for $10.00.  Each ticket is a chance to win either the quilt or photograph.
The colorful pieced and tied quilt is signed C J Knettles, 1891, donated by Gina Prentiss.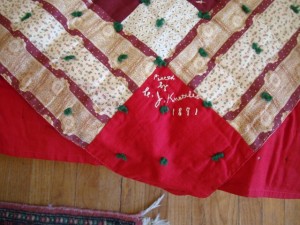 The photograph shows Dryden Lake and many surrounding farms.  Ross Sherman took the photo from Carpenter Hill in 1955.  It was Hand tinted by Mildred Sherman. This framed copy was donated by Bob Watros.

—————————————————————————————————————————–
Welcome to the Dryden Town Historical Society. We are located in the village of Dryden, at 14 North Street, 10 miles from both Ithaca and Cortland.
We have new programs and exhibits monthly. Please stop in and chat with our staff and docents, and enjoy this wonderful opportunity to learn about the history of Dryden.
For a future DTHS program on Memorable Characters in the Town of Dryden, we would like to include, Florence Montgomery Southworth, John H Southworth, and Rebecca Southworth Simpson.  If you have stories or memories to add, please let the program committee know.

Address
14 North Street
P.O. Box 69
Dryden, NY 13053
Contact
607-844-9209
drydennyhistory@gmail.com
Hours
Saturday, 10am - 1pm
Or by appointment

drawing by Cynthia Cantu
Mailing List
Send an email to drydennyhistory@gmail.com to be kept informed of upcoming events.