Welcome
2015 SOUTHWORTH HOUSE GALA
Saturday, December 5, 6pm – 8pm
An evening of holiday celebration with fine food, wine, live music, special raffles, and holiday decorations. All in support of the preservation of the Southworth Homestead, 14 North Street, Dryden.  The entire $60 per person ticket fee will go towards the effort because of generous donors.  Invite your friends. Be sure to make your reservation by sending your check to the DTHS (write GALA in the notes section), PO Box 69, Dryden, NY, 13053.  Or contact Bob Jacobson, 844-9189, Betsy Cleveland at 227-1627 or drbobjacobson@gmail.com or bestsyandchuck@frontiernet.net
2015 HOLIDAY WORKSHOP

Saturday, December 5, 10:30am – 1pm at the Southworth House
HIDDEN SURPRISE ORNAMENTS
Quick and Easy! Drop in and take just a few minutes to turn strips of decorative paper into an ornament with a "secret".
Free and Open to All Ages
Come join us!
2015 RAFFLE TO BENEFIT THE SOUTHWORTH HOMESTEAD, Drawing on December 5
This year there are two items in the Benefit Raffle.  Buy a ticket and take a chance on either an antique quilt or a framed copy of a locally famous photograph.  Tickets are $5.00 each or 3 for $10.00.  Each ticket is a chance to win either the quilt or photograph.
The colorful pieced and tied quilt is signed C J Knettles, 1891, donated by Gina Prentiss.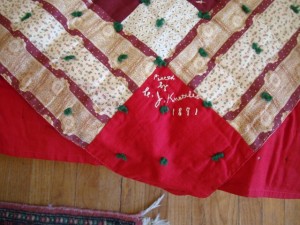 The photograph shows Dryden Lake and many surrounding farms.  Ross Sherman took the photo from Carpenter Hill in 1955.  It was Hand tinted by Mildred Sherman. This framed copy was donated by Bob Watros.

—————————————————————————————————————————–
Welcome to the Dryden Town Historical Society. We are located in the village of Dryden, at 14 North Street, 10 miles from both Ithaca and Cortland.
We have new programs and exhibits monthly. Please stop in and chat with our staff and docents, and enjoy this wonderful opportunity to learn about the history of Dryden.
For a future DTHS program on Memorable Characters in the Town of Dryden, we would like to include, Florence Montgomery Southworth, John H Southworth, and Rebecca Southworth Simpson.  If you have stories or memories to add, please let the program committee know.

Address
14 North Street
P.O. Box 69
Dryden, NY 13053
Contact
607-844-9209
drydennyhistory@gmail.com
Hours
Saturday, 10am - 1pm
Or by appointment

drawing by Cynthia Cantu
Mailing List
Send an email to drydennyhistory@gmail.com to be kept informed of upcoming events.